Hiking
Located in the foothills of the Blue Ridge Mountains, Butter Street Retreat is a prime destination for hikers of all experience levels. Since there are dozens of hiking trails in close proximity, we highly recommend downloading the AllTrails App to help you find the best trails, see routes and maps, and read tips before setting out.
Campbell's Covered Bridge (very easy) – 15 minutes away
Length: .5 miles long
Elevation gain: 65 feet
Campbell's Covered Bridge Park is a nearby destination, perfect for a picnic and a short walk. The ½ mile trail features a paved walkway from the parking lot to Campbell's Covered Bridge. The wood-covered bridge was built in 1909 and is the only remaining covered bridge in all of South Carolina.
Pearson's Falls (easy) – 16 minutes away
Length: 0.7 miles out and back
Elevation gain: 134 feet
Pearson's Falls is a gorgeous 90 foot waterfall which cascades down a staircase of rock. This beautiful hike through the lush forest follows the brook with picnic tables and benches along the way.
Blue Wall Preserve – Twin Ponds (easy) – 10 minutes away
Length: 3.4 mile long loop trail
Elevation gain: 380 feet
Twin Ponds trail is a fairly easy walk in the woods, with some moderate elevation. You will enjoy great views of the pond, a creek, and some small waterfalls. It is not crowded, and is great for families.
Little Bradley Falls (moderate) – 25 minutes away
Length: 2.4 miles out and back
Elevation gain: 157 feet
Little Bradley Falls is a stream-side trail with breathtaking views of a 50 foot waterfall at the end. There are two stream crossings to complete the hike, so bring water shoes or be prepared to go barefoot as you cross. One of our favorites! Tip: go to the left (up the hill) at the very beginning.
Trails at Chimney Rock State Park (easy, moderate, hard) – 42 minutes away
Chimney Rock State Park is home to some of the best views in the Blue Ridge Mountains. There are several heavily trafficked trails with medium to high elevation changes. This is a state park so there is a per-person entrance fee, but the views make it worth every penny. If you're going to spend one day hiking, we would recommend you spend it here.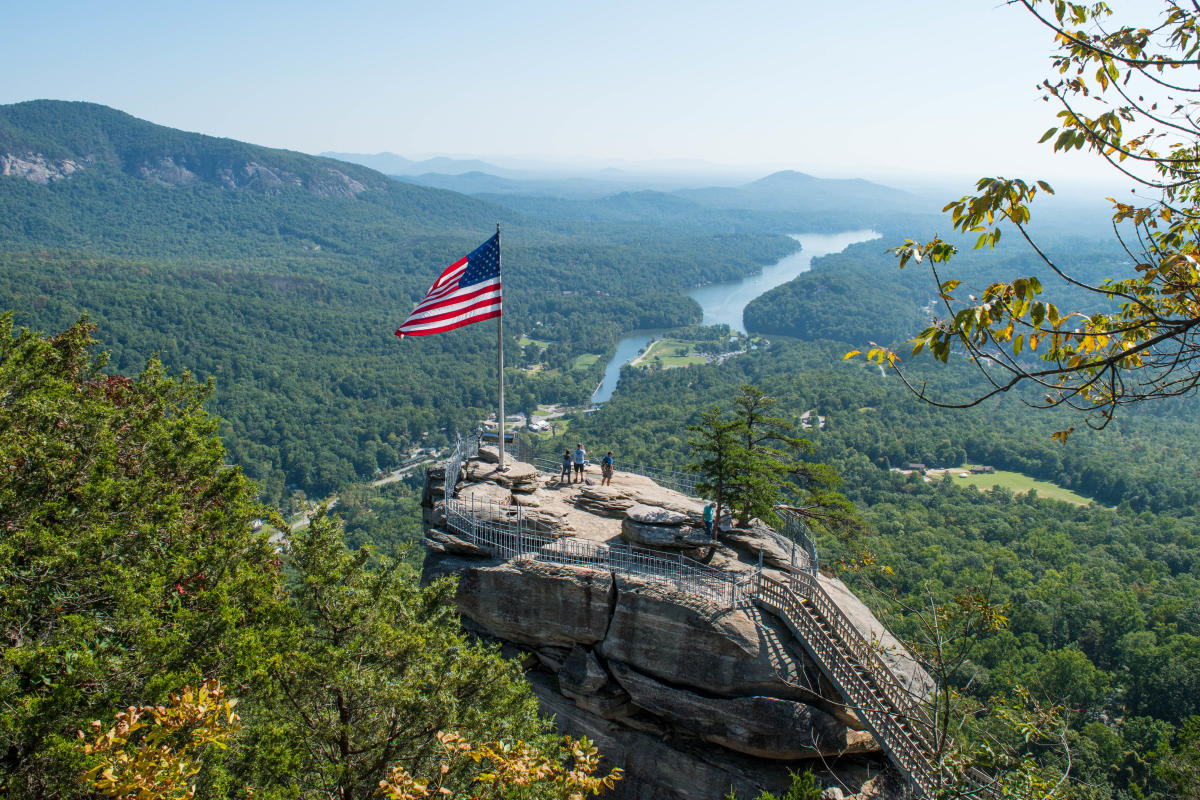 Adventure
The Gorge – A Zip Line Canopy Tour – Saluda, NC
"America's steepest and fastest zipline canopy tour, offers a thrilling tree-based arial adventure. Zip from treetop to treetop on 11 zippiness, traverse a sky-bridge, descending 3 huge rappels, all through stunning old growth forest overlooking 18,000 acres of protected Green River Gamelands."
Green River Adventures – Saluda, NC
Open Memorial Day through Labor Day, they of
Green River Adventures – Saluda, NC
Open Memorial Day through Labor Day. A premier outdoors company specializing in guided whitewater trips from class 1 to class 4 whitewater, waterfall rappelling, stand up paddle-boarding, and whitewater kayak instruction. Green River Adventures is highly rated and has trips for all ages, skill, and thrill levels.
3772 Green River Cove Rd, Saluda, NC 28773
"Escape the heat and enjoy an exciting day on the river. Let the Green River guide you through the wilderness with a mixture of peaceful floating and thrilling whitewater."
Golf
Links O' Tryon – 11250 New Cut Road, Campobello, SC
This semi-private course is open to the public. It was designed by renowned architect, Tom Jackson, featuring grass bunkers, handsome walls and bridges of imported fieldstone all adding a touch of Scottish flavor. Enjoy the spectacular mountain and water views.
Cleghorn Golf & Sports Club – 183 Golf Circle, Rutherfordton, NC
This well manicured resort club was designed by George Cobb (famous for Quail Hollow Club and Par 3 at Augusta National). It was acclaimed by the PGA as one of North Carolina's top golf courses, and was listed by Golf Digest in their "Best Places to Play."
Orchards & Markets
650 Fisher Road, Greer, SC 29651
Open June through September. Offering u-pick peaches as well as a farm store with jellies, jams, cider, and fresh produce. Did you know South Carolina is the largest producer of peaches in the US?
111 N Trade Ave, Landrum, SC
May through October, Saturdays 8am – noon
Any questions?
If you have any questions about amenities, accommodations, or anything else about Butter Street Retreat, contact us at [email protected]. We'd be happy to help!